Bruno Volckaert, PhD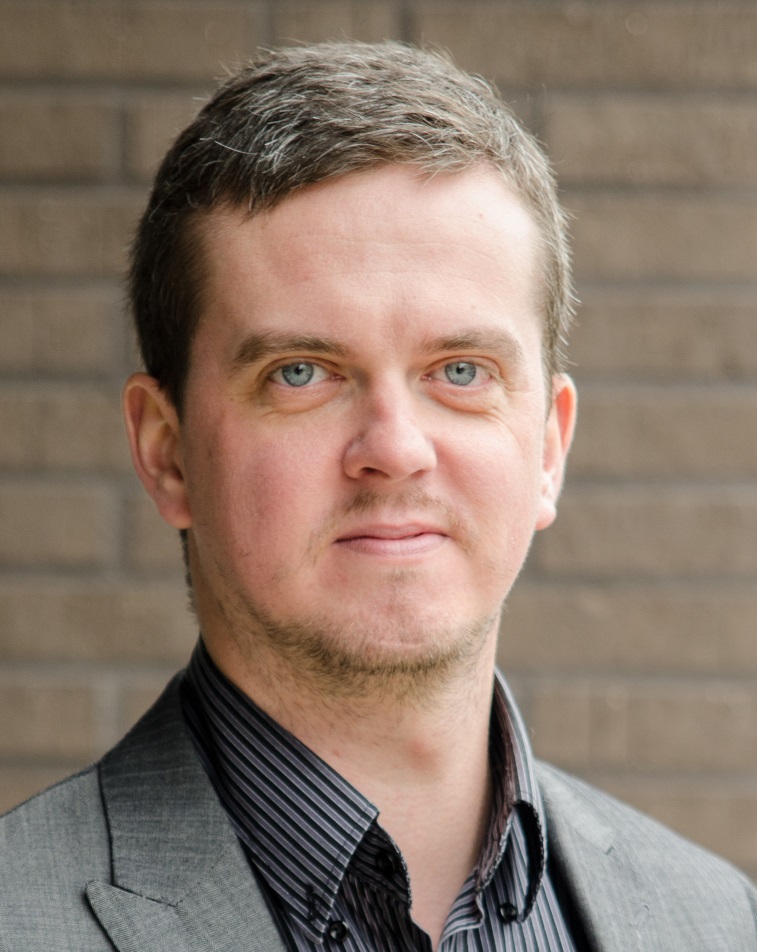 Department of Information Technology
Broadband Communication Networks and Services (IBCN)
Ghent University
Gaston Crommenlaan 8 bus 201
9050 Gent, Belgium

Phone: +32 9 33 14900
Mobile: +32 479 95 14 83
Fax: +32 9 33 14899
Email: bruno.volckaert@intec.ugent.be


---
I am a postdoc in the INTEC Broadband Communications Networks and Services group, which is a part of the Ghent University and affiliated with iMinds. I started my career doing research on Grid computing, developing NSGrid, an advanced ns-2 based Grid simulator, detailed in full in my PhD (2006): Architectures and Algorithms for Network and Service Aware Grid Resource Management.
My research interests are Cloud computing advances (resource provisioning, hybrid/multi-cloud management, etc.), NFV/SFC (a.o. IETF standardisation), application-level distributed system design and architecture and distributed (data) management systems for Smart City / Smart Transportation.

I have been involved in over 30 national and international research projects, from idea conception to successfully acquiring research funding and have been research lead of the TRACK and RAILS ICON projects (network, application and business solutions for railway transportation). Currently, I'm research lead for the EMD project dealing with advances in Cloud-based elastic media distribution for on-line professional collaboration. On the educational side of things, I teach advanced programming courses to university computer scientists and industrial engineers.

Do not hesitate to contact me if you are interested in collaboration, if you are seeking advice or want more information about specific research tracks.
---
A1 Journal articles
Symbiotic Service Composition in Distributed Sensor Networks
De Pauw, T.; Volckaert, B.; Hristoskova, A.; et al.
International Journal of Distributed Sensor Networks Pages: 22 Published: 2013
The WTE plus framework: automated construction and runtime adaptation of service mashups
Hristoskova, A.; Volckaert, B.; De Turck, F.
Automated Software Engineering Volume: 20 Issue: 4 Pages: 499-542 Published: 2013
Design of a service oriented architecture for efficient resource allocation in media environments
Desmet, S.; Volckaert, B.; De Turck, F.
Future Generation Computer Systems-the International Journal of Grid Computing and Escience Volume: 28 Issue: 3 Pages: 527-532 Published: 2012
An autonomous service-platform to support distributed ontology-based context-aware agents
Verstichel, S.; Ongenae, F.; Volckaert, B.; et al.
Expert Systems Volume: 28 Issue: 5 Pages: 437-460 Published: 2011
Context-Aware Scheduling of Distributed DL-Reasoning Tasks in Wireless Sensor Networks
Verstichel, S.; Volckaert, B.; Dhoedt, B.; et al.
International Journal of Distributed Sensor Networks Pages: 24 Published: 2011
Large-scale Performance Evaluation of e-Homecare Architectures Using the WS-NS Simulator
Van Hoecke, S.; Volckaert, B.; Dhoedt, B.; et al.
Methods of Information in Medicine Volume: 50 Issue: 5 Pages: 408-419 Published: 2011
Web service choreography conformance verification through the piX-model
Van Seghbroeck, G.; Volckaert, B.; De Turck, F.;
International Journal of Cooperative Information Systems Volume: 19 Issue: 1-2 Pages: 1-30 Published: 2010
Gridification of collaborative audiovisual organizations through the MediaGrid framework
Volckaert, B.; Wauters, T.; De Leenheer, M.; et al.
Future Generation Computer Systems-the International Journal of Grid Computing Theory Methods and Applications Volume: 24 Issue: 5 Pages: 371-389 Published: 2008
Scalable dimensioning of resilient Lambda Grids Author(s)
Thysebaert, P.; De Leenheer, M.; Volckaert, B.; et al.
Future Generation Computer Systems-the International Journal of Grid Computing and Escience Volume: 24 Issue: 6 Pages: 549-560 Published: 2008
Design of a flexible platform for execution of medical decision support agents in the intensive care unit
De Turck, F.; Decruyenaere, J.; Thysebaert, P.; Van Hoecke, S.; Volckaert, B. et al.
Computers in Biology and Medicine Volume: 37 Issue: 1 Pages: 97-112 Published: 2007
Dimensioning and on-line scheduling in Lambda Grids using divisible load concepts
Thysebaert, P.; Volckaert, B.; De Leenheer, M.; et al.
Journal of Supercomputing Volume: 42 Issue: 1 Pages: 59-82 Published: 2007
A view on enabling-consumer oriented grids through optical burst switching
De Leenheer, M.; Thysebaert, P.; Volckaert, B.; et al.
IEEE Communications Magazine Volume: 44 Issue: 3 Pages: 124-131 Published: 2006
Flexible Grid service management through resource partitioning
Volckaert, B.; Thysebaert, P.; De Leenheer, M.; et al.
Journal of Supercomputing Volume: 38 Issue: 3 Pages: 279-305 Published: 2006
Scalable dimensioning of optical transport networks for grid excess load handling
Thysebaert, P.; De Leenheer, M.; Volckaert, B.; et al.
Photonic Network Communications Volume: 12 Issue: 2 Pages: 117-132 Published: 2006
Resource partitioning algorithms in a programmable service grid architecture
Thysebaert, P.; Volckaert, B.; De Leenheer, M.; et al.
Computational Science - ICCS 2005, Pt 3 Volume: 3516 Pages: 250-258 Published: 2005
Application-specific hints in reconfigurable grid scheduling algorithms
Volckaert, B.; Thysebaert, P.; De Turck, F.; et al.
Computational Science - ICCS 2004, Pt 3, Proceedings Volume: 3038 Pages: 149-157 Published: 2004
Grid computing: the next network challenge!
Volckaert, B.; Thysebaert, P.; De Leenheer, M.; et al.
Journal of the Communications Network Volume: 3 Pages: 159-165 Published: 2004
A generic middleware-based platform for scalable cluster computing
De Turck, F.; Vanhastel, S.; Volckaert, B.; et al.
Future Generation Computer Systems Volume: 18 Issue: 4 Pages: 549-560 Published: 2002
A2 articles
An optical control plane for the Grid community: opportunities, challenges and vision
Marc De Leenheer, Pieter Thysebaert, Bruno Volckaert, Filip De Turck, Bart Dhoedt, Piet Demeester, Dimitra Simeonidou, Reza Nejabati, Georgios Zervas, Dimitrios Klonidis, Mike J O'Mahony
IEEE Communications Magazine, Volume 44 Issue 3 Pages 124-131, 2006
Evaluation of Grid Scheduling Strategies Through NSgrid: A Network-aware Grid Simulator
Pieter Thysebaert, Bruno Volckaert, Filip De Turck, Bart Dhoedt, Piet Demeester
Neural, Parallel & Scientific Computations, Volume 12, Issue 3, Pages 353-378
Books / Book chapters
Grid technologies: emerging from distributed architectures to virtual organizations
Volckaert B, Thysebaert P, De Leenheer M, De Turck F, Dhoedt B, Demeester P.
Network and service aware grid resource assignment. In: Bekakos M, Gravvanis G, Arabnia H, editors., Southampton, UK: WIT Press; 2007. p. 25–55
Distributed ontology-based monitoring on the IBBT WiLab. t infrastructure
Stijn Verstichel, Eli De Poorter, Tim De Pauw, Pieter Becue, Bruno Volckaert, Filip De Turck, Ingrid Moerman, Piet Demeester
Testbeds and Research Infrastructures. Development of Networks and Communities, pages 509-525, Springer Berlin Heidelberg
P1 publications
SeCoA: Autonomous Semantic Service Composition Algorithm in Symbiotic Networks
De Pauw, Tim; Volckaert, Bruno; Ongenae, Veerle; et al.
2012 IEEE NETWORK OPERATIONS AND MANAGEMENT SYMPOSIUM (NOMS) Book Series: IEEE IFIP Network Operations and Management Symposium Pages: 566-569 Published: 2012
Design of an Autonomous Software Platform for Future Symbiotic Service Management
De Pauw, Tim; Matthys, Nelson; Volckaert, Bruno; et al.
2012 IEEE NETWORK OPERATIONS AND MANAGEMENT SYMPOSIUM (NOMS) Book Series: IEEE IFIP Network Operations and Management Symposium Pages: 1195-1198 Published: 2012
Autonomous Resource-Aware Scheduling of Large-Scale Media Workflows
Desmet, Stein; Volckaert, Bruno; De Turck, Filip
MECHANISMS FOR AUTONOMOUS MANAGEMENT OF NETWORKS AND SERVICES, Book Series: Lecture Notes in Computer Science Volume: 6155 Pages: 50-64 Published: 2010
Dynamic Composition of Semantically Annotated Web Services through QoS-aware HTN Planning Algorithms
Hristoskova, Anna; Volckaert, Bruno; De Turck, Filip
FOURTH INTERNATIONAL CONFERENCE ON INTERNET AND WEB APPLICATIONS AND SERVICES Pages: 377-382 published: 2009
Automated Instantiation and Extraction of Web Service Choreographies
Van Seghbroeck, Gregory; Volckaert, Bruno; De Turck, Filip; et al.
FOURTH INTERNATIONAL CONFERENCE ON INTERNET AND WEB APPLICATIONS AND SERVICES Pages: 455-461 Published: 2009
Automating Workflows with Service Oriented Media Applications
Van der Weken, D.; Van Assche, S.; Clabaut, D.; Desmet, S.; Volckaert, B.
IEEE CONGRESS ON SERVICES (SERVICES-1 2009), VOLS 1 AND 2 Pages: 507-514 Published: 2009
Message Correlation in Web Services Choreographies: a 4-phase Validation Method
Van Seghbroeck, Gregory; Volckaert, Bruno; De Turck, Filip; et al.
ECOWS'09: PROCEEDINGS OF THE 7TH IEEE EUROPEAN CONFERENCE ON WEB SERVICES Pages: 118-125 Published: 2009
Automating media processes in a Service Oriented Architecture
Van der Weken, D.; Desmet, S.; Muylaert, B.; Van Assche, S.; Volckaert, B.
IEEE SYMPOSIUM ON COMPUTERS AND COMMUNICATIONS, VOLS 1-3 Book Series: IEEE Symposium on Computers and Communications ISCC Pages: 245-250 Published: 2008
A distributed resource and network partitioning architecture for service grids
Volckaert, B; Thysebaert, P; De Leenheer, M; et al.
IEEE International Symposium on Cluster Computing and the Grid, Vols 1 and 2 Pages: 426-433 Published: 2005
Using divisible load theory to dimension optical transport networks for Grid excess load handling
Thysebaert, P; De Leenheer, M; Volckaert, B; et al.
Joint International Conference on Autonomic and Autonomous Systems and International Conference on Networking and Services (ICAS/ICNS) Pages: 559-564 Published: 2005
A Multi-Layered Approach to Optical Burst-Switched Based Grids
Farahmand, F.; De Leenheer, M.; Thysebaert, P.; Volckaert, B; et al.
2ND INTERNATIONAL CONFERENCE ON BROADBAND NETWORKS (BROADNETS 2005) Published: 2005
A scalable and performant grid monitoring and information framework
Volckaert, B; Thysebaert, P; De Leenheer, M; et al.
PDPTA '05: Proceedings of the 2005 International Conference on Parallel and Distributed Processing Techniques and Applications, Vols 1-3 Pages: 224-230 Published: 2005
An OBS-based grid architecture
De Leenheer, M; Van Breusegem, E; Thysebaert, P; Volckaert, B. et al.
GLOBECOM 2004: IEEE GLOBAL TELECOMMUNICATIONS CONFERENCE WORKSHOPS Book Series: IEEE Global Telecommunications Conference (Globecom) Pages: 390-394 Published: 2004
Network aspects of grid scheduling algorithms
Thysebaert, P; Volckaert, B; De Turck, F; et al.
17th International Conference on Parallel and Distributed Computing Systems Location: San Francisco, CA, PARALLEL AND DISTRIBUTED COMPUTING SYSTEMS Pages: 91-97 Published: 2004
On the use of NSGrid for accurate grid schedule evaluation
Volckaert, B; Thysebaert, P; De Leenheer, M; et al.
PDPTA '04: PROCEEDINGS OF THE INTERNATIONAL CONFERENCE ON PARALLEL AND DISTRIBUTED PROCESSING TECHNIQUES AND APPLICATIONS, VOLS 1-3 Pages: 200-206 Published: 2004
Evaluation of a job admission algorithm for bandwidth constrained grids
De Leenheer, M; Thysebaert, P; Volckaert, B; et al.
PDPTA '04: PROCEEDINGS OF THE INTERNATIONAL CONFERENCE ON PARALLEL AND DISTRIBUTED PROCESSING TECHNIQUES AND APPLICATIONS, VOLS 1-3 Pages: 591-594 Published: 2004
Evaluation of grid scheduling strategies through a network-aware grid simulator
Volckaert, B; Thysebaert, P; De Turck, F; et al.
PDPTA'03: PROCEEDINGS OF THE INTERNATIONAL CONFERENCE ON PARALLEL AND DISTRIBUTED PROCESSING TECHNIQUES AND APPLICATIONS, VOLS 1-4 Pages: 31-35 Published: 2003
Design of a middleware-based cluster management platform with task management and migration
De Turck, F; Vanhastel, S; Thysebaert, P; et al.
2002 IEEE INTERNATIONAL CONFERENCE ON CLUSTER COMPUTING, PROCEEDINGS Pages: 484-487 Published: 2002
C1 Conference publications
BPMN extensions for decentralized execution and monitoring of business processes
Jonas Anseeuw, Gregory Van Seghbroeck, Bruno Volckaert, Filip De Turck
CLOSER2015 5th international conference on Cloud Computing and Services Science, 2015
On the design of a flexible software platform for in-building OTT service provisioning
T. De Pauw, B. Volckaert, F. De Turck, V. Ongenae
Integrated Network Management (IM), 2011 IFIP/IEEE, 2011
Framework managing the automated construction and runtime adaptation of service mashups
Hristoskova A., Volckaert, B., & De Turck, F.
In Proceedings of the international workshop on semantic interoperability IWSI 2011 (pp. 31–40), Portugal
Resource-aware scheduling of distributed ontological reasoning tasks in wireless sensor networks
Tim De Pauw, Stijn Verstichel, Bruno Volckaert, Filip De Turck, Veerle Ongenae
2010 IEEE International Conference on Sensor Networks, Ubiquitous, and Trustworthy Computing (SUTC), Pages 131-137
Design of a framework for automated service mashup creation and execution based on semantic reasoning
Anna Hristoskova, Bruno Volckaert, Filip De Turck, Bart Dhoedt, 2010 Fifth International Conference on Internet and Web Applications and Services (ICIW)
Context based selection of user generated content
Matthias Strobbe, Olivier Van Laere, Bruno Volckaert, Filip De Turck, Bart Dhoedt, Piet Demeester
International Conference on Semantic Web & Web Services (SWWS 2008), pages 100-106
Automating workflows in media production: building an infrastructure for a service oriented architecture with a Business Process Management system
Steven Van Assche, Dietrich Van der Weken, Bjorn Muylaert, Stein Desmet, Bruno Volckaert
3rd International Conference on Evaluation of Novel Approaches to Software Engineering (2008), pages 31-38
Throughput evaluation of different enterprise service bus approaches
Stein Desmet, Bruno Volckaert, Steven Van Assche, Dietrich Van Der Weken, Bart Dhoedt, Filip De Turck
Proceedings of SERP2007, the 2007 International Conference on Software Engineering Research & Practice (part of the 2007 World Congress in Computer Science, Computer Engineering, and Applied Computing), Pages 378-384
Hybrid optical switching for data-intensive media grid applications
Jurgen Baert, Marc De Leenheer, Bruno Volckaert, Tim Wauters, Pieter Thysebaert, Filip De Turck, Bart Dhoedt, Piet Demeester
Proc. of the 2006 COST291/GBOU ONNA Workshop on Design of Next Generation Optical Networks: from the Physical up to the Network Level Perspective, Gent, Belgium
Anycast routing in optical burst switched grid networks
Marc De Leenheer, Farid Farahmand, Pieter Thysebaert, Bruno Volckaert, Filip De Turck, Bart Dhoedt, Piet Demeester, Jason Jue
Proc. 31st European Conference on Optical Communication (ECOC), Glasgow, Scotland, 2005
A performance oriented Grid monitoring architecture
Stijn De Smet, Pieter Thysebaert, Bruno Volckaert, Filip De Turck, Bart Dhoedt, Piet Demeester
Proceedings of the 2nd IEEE Workshop on End-to-End Monitoring Technics and Sercives (E2EMON), Monitoring Emerging Network Services, 2004
Towards consumer-oriented photonic Grids
P Thysebaert, B Volckaert, M De Leenheer, E Van Breusegem, F De Turck, B Dhoedt, D Simeonidou, MJ O'Mahoney, R Nejabati, A Tzanakaki, I Tomkos
Workshop on Optical Networking for Grid Services (ECOC 2004)
Network aware scheduling in grids
Bruno Volckaert, Pieter Thysebaert, Marc De Leenheer, Filip De Turck, Bart Dhoedt, Piet Demeester
Proc. of the 9th European Conference on Networks and Optical Communications 2004
Service brokering in an enhanced grid environment
Stefaan Vanhastel, Pieter Thysebaert, Filip De Turck, Bruno Volckaert, Piet Demeester, Bart Dhoedt
Proceedings of the International Conference on Parallel and Distributed Processing Techniques and Applications, PDPTA 2002, June 24-27, 2002, Las Vegas, Nevada, USA/Edited by HR Arabnia.-Volume 2. Pages 712-718
---

Last update: August 2015